Your First Visit to Our Sunnyside Practice
"Happy I kept the appointment – I feel the treatment will help." = J.C.
On your first day, you will be greeted at the front desk by our friendly receptionist.
After brief paperwork is filled out, you are walked back by our chiropractic assistant who will give you an office tour along the way.
Once completed, a detailed consultation or 'information gathering' by Dr. Abrankian occurs. This is where the discovery of your goals and any concerns are revealed. Once both parties are clear, we proceed forward with spinal examinations.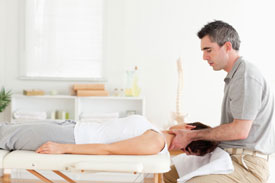 Finally, financials are discussed prior to taking x-rays of your spine.
Click here to learn what you can expect on your second visit.
---
Your First Visit | Abrankian Back & Neck Center | (718) 472-0448