New Patients at Abrankian Back & Neck Center
Your First Visit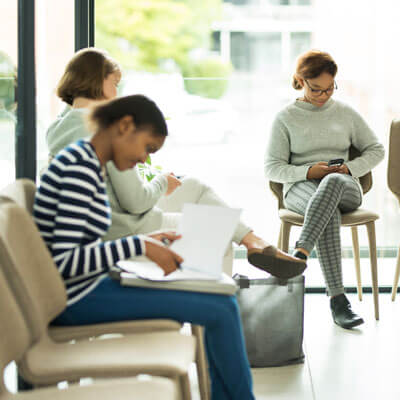 On your first day, you will be greeted at the Abrankian Back & Neck Center front desk by our friendly receptionist.
After brief paperwork is filled out, you are walked back by our chiropractic assistant who will give you an office tour along the way. You can also fill out your paperwork online before your first appointment.
Once completed, a detailed consultation and spinal examination occurs with the doctor. This is where the discovery of your goals and any concerns are revealed.
Your doctor will discuss your results. Four key concerns or questions are answered.
First, can chiropractic care help you?
Second, what is wrong and to what degree?
Thirdly, how long will it take?
Lastly, how much will it cost?
Any home recommendations are discussed in addition to any questions. Once completed, we proceed forward with care.
Regular Visits
A typical office visit may require just 10-20 minutes. But don't think the brevity of a regular visit lessens its value! With the groundwork laid, we can quickly size up the condition of your spine and nervous system, adjust you and get you on your way.
Like a regular workout at the gym, each visit builds on the ones before. Miss a visit and you can lose the momentum necessary to make the needed changes. We recognize your time is valuable. So we do everything possible to run on time and minimize the impact on your busy life.
Contact Us
Take that first step toward better health. Contact our Sunnyside chiropractic office to schedule an appointment so we can help you and your family.
CONTACT US »
---
New Patients at Abrankian Back & Neck Center | (718) 472-0448